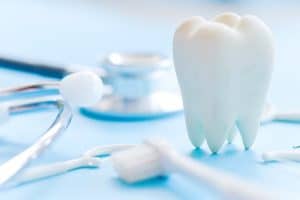 It's no secret that good dental hygiene and regular checkups and cleanings are cornerstones of keeping your smile healthy for life. Yet, many people don't realize that even one small hiccup in their routines can make way for harmful oral bacteria to cause trouble. Dental conditions such as tooth decay, gum disease, and more are caused by these bacteria accumulating, which is what regular dental cleanings at our El Paso, TX, office is meant to prevent. Today, we examine how best to keep your teeth clean between dental checkup and cleaning appointments.
What Good Hygiene Means
During your dental checkup and cleaning appointment, your dentist or hygienist will thoroughly clean the deposits of oral bacteria from your teeth and gum line known as plaque and tartar. These deposits are where bacteria gather enough to become significant threats to your oral health. However, you can mitigate that threat by keeping plaque at bay every day with your toothbrush and floss. By brushing your teeth at least twice and flossing at least once, you can significantly slow down the rate at which oral bacteria form plaque and reduce the risk of plaque calcifying into tartar.
Why It's Important to Your Smile
The general rule for dental checkups and cleanings is to attend at least one every six months. Regularly allowing your dentist and hygienist to keep your teeth professionally clean helps ensure that oral bacteria don't become a serious threat. If you don't control plaque with daily hygiene, however, then the oral bacteria in plaque and tartar could become strong enough to harm your teeth and gums before your next visit.
Lean More About Boosting Your Hygiene Routine
With a good and effective hygiene routine at home, you can do more to keep your teeth clean and healthy between your dental checkup and cleaning appointments. To learn more, schedule an appointment by calling the Sunny Smiles dental office nearest you in El Paso, TX, today! We have offices in the East, Northeast, and Westside of El Paso, and happily welcome patients from all nearby communities, including Chaparral, Canutillo, Vinton, and Sunland Park, New Mexico.