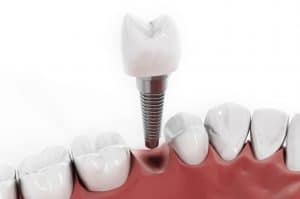 After the initial shock of losing one or more teeth, you may have several questions about your condition. For instance, how will it affect the rest of your oral health, and what's your best tooth replacement option? In many cases, the best way to restore your smile is with the help of one or more dental implants, which are small, root-like posts that your dentist inserts into your jawbone. With the ability to support any dental prosthetic (i.e., crown, bridge, or denture), implants can be your best option, as well.
What do dental implants do?
Like your natural teeth roots, dental implants serve several different functions. Their main purpose is to support your prosthetic with more comfortable and lifelike anchors rather than clasps and adhesives. However, implants also preserve your jawbone by restoring the stimulation it needs to maintain its supply of nutrients.
Can I add implants to my existing bridge/denture?
Even if you've lost teeth long ago and already rely on a bridge or denture, you may still benefit from upgrading it to one supported by dental implants. With the support of implant posts, your prosthesis will fit better and never shift along your dental ridge. With better support, it may even last longer before needing repair or replacement.
What other benefits do implants provide?
Better support for your dental prosthesis means improved comfort and a more lifelike appearance when you bite, chew, and speak. By sustaining your jawbone, implants also reduce your risks of losing more teeth, which is a common result from jawbone degradation following the loss of one or more teeth roots.
Get More Answers to Questions About Dental Implants
Learn more about why dental implants could be your smile's best option following tooth loss. To learn more, schedule an appointment by calling the Sunny Smiles dental office nearest you in El Paso, TX, today! We have offices in the East, Northeast, and Westside of El Paso, and happily welcome patients from all nearby communities, including Chaparral, Canutillo, Vinton, and Sunland Park, New Mexico.