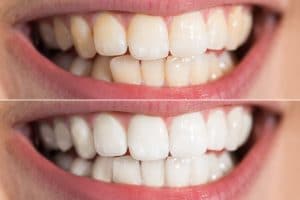 Brushing your teeth twice a day and flossing at least once helps you prevent a lot of things, like cavities and gingivitis, that could threaten the health of your smile. Unfortunately, good hygiene can't prevent everything; teeth stains, for example, can develop no matter how clean and healthy you keep your teeth. The good news is that they don't always mean something's wrong with your oral health (other than the appearance of your teeth). The even better news is that your dentist may be able to quickly land effectively erase teeth stains with the right professional teeth-whitening treatment.
How do I know the treatment will work?
The best thing about professional teeth-whitening is that it's almost guaranteed to work. Before recommending the procedure, your dentist will thoroughly examine your teeth stains to diagnose their nature and severity, and to ensure that teeth-whitening is the right option to erase them.
What if my teeth stains don't respond to whitening?
The most common types of stains (the ones that appear naturally) develop on the surfaces of your teeth. Other stains, however, may develop from within your tooth's structure, making them impervious to teeth-whitening treatment. If your stains are internal (or intrinsic), then your dentist can recommend another cosmetic option, such as bonding or porcelain veneers, to improve your smile's appearance.
Can I get teeth-whitening with a crown or veneer?
Unlike your natural teeth structure, the porcelain used for your lifelike restoration won't respond to teeth-whitening. It also won't stain, so whitening wouldn't be needed. However, to maintain your smile's uniformity, your dentist may suggest whitening your healthy, natural teeth first, then customizing your porcelain restoration to match their new color and shade.
Ask Your Dentist More About Teeth-Whitening
With a timely professional teeth-whitening treatment, you can effectively erase teeth stains and significantly brighten your smile's appearance. To learn more, schedule an appointment by calling the Sunny Smiles dental office nearest you in El Paso, TX, today! We have offices in the East, Northeast, and Westside of El Paso, and happily welcome patients from all nearby communities, including Chaparral, Canutillo, Vinton, and Sunland Park, New Mexico.