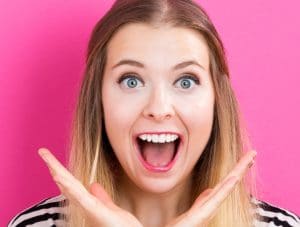 A porcelain veneer is an ultra-thin, highly customized shell of dental porcelain that can be bonded to the front surfaces of one or more teeth. If you want to restore your smile's healthy, beautiful appearance but are worried about undergoing extensive cosmetic work, porcelain veneers may be the ideal solution. In many cases, custom veneers can provide a number of improvements to the size, shape, and appearance of your teeth, without needing multiple cosmetic procedures to do it.
Fix a severe tooth blemish.
If only one tooth is blemished, then you might be able to improve it by placing a porcelain veneer over its front surface. Things like discoloration that doesn't respond to teeth whitening or a chipped edge that's noticeable, but doesn't require a lot of restoration, can all be addressed with a single porcelain veneer.
Avoid a dental crown.
If your tooth is worn down or has a prominent crack in its surface, then your first thought may be to cap it with a dental crown. However, in many cases, your dentist can help you avoid having to modify your entire tooth to accommodate a crown by suggesting a porcelain veneer, instead. The veneer can restore your tooth's appearance and its strength while minimizing the amount of tooth preparation needed for your treatment.
Straighten teeth that are out of line.
Most cases of tooth misalignment must be addressed with orthodontic braces or cosmetic aligners. Yet, in some cases, the misalignment is purely cosmetic, such as one or more teeth that jut out slightly. Fixing your smile's appearance may not require braces or aligners; instead, your dentist may be able to create a more symmetrical contour for your smile with one or more custom veneers.
Find Out if Porcelain Veneers Are Right for You
With one or more porcelain veneers, you can do more for your smile and in less time than with many other cosmetic enhancements. To learn more, schedule an appointment by calling the Sunny Smiles dental office nearest you in El Paso, TX, today! We have offices in the East, Northeast, and Westside of El Paso, and happily welcome patients from all nearby communities, including Chaparral, Canutillo, Vinton, and Sunland Park, New Mexico.