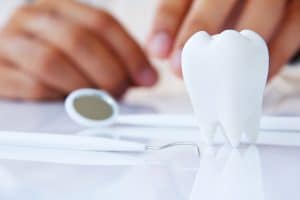 The good news about tooth loss is that it isn't as big of a deal as it used to be. With fewer options for replacing lost teeth and rudimentary technology, dentists of the past were limited in their ability to design appropriate prostheses. Today, however, custom restorations can rebuild virtually any smile. In addition, advanced technology and dental treatments has also improved to the point where most people can successfully prevent tooth loss from occurring in the first place.
Why It Still Happens
People lose teeth for many different reasons, and despite advanced dentistry, not all of those reasons are preventable. For instance, an accidental blow to the face or mouth can knock a tooth out of its socket without any warning. However, most cases of tooth loss occur because of an advanced dental health issue, like gum disease. In fact, gum disease is the leading cause of tooth loss among adults in the United States. Besides accidents, tooth loss that occurs due to a dental disease is typically preventable by preventing or treating the issue before it grows too severe.
How to Preserve Your Teeth
The best way to prevent tooth loss is to eliminate the most common tooth loss threats. Wearing a mouthguard while playing sports can prevent accidental tooth loss and taking good care of your oral health can help you prevent severe dental diseases. For optimal results, be sure to visit your dentist at least twice a year for regular exam and cleaning appointments so your dentist can keep an eye out for signs that could indicate trouble.
Learn More About Preventing Tooth Loss
Tooth loss may still be prevalent, but you can improve your chances of preventing it by understanding and avoiding the most common causes of it. To learn more, schedule an appointment by calling the Sunny Smiles dental office nearest you in El Paso, TX, today! We have offices in the East, Northeast, and Westside of El Paso, and happily welcome patients from all nearby communities, including Chaparral, Canutillo, Vinton, and Sunland Park, New Mexico.