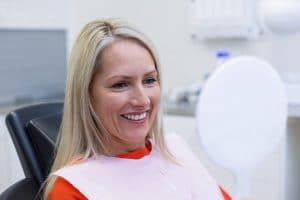 Once you know that you have gum disease, you can take appropriate steps to treat it, starting with a visit to your dentist. However, for some patients, the signs of gum disease aren't obvious, and the symptoms are often mistaken for minor occurrences. That's because many people aren't aware of what the early signs of gum disease are, and since these symptoms don't usually include discomfort, there doesn't always seem to be cause for alarm. Today, explore the common symptoms that could be a warning of trouble, and what to look for so you can know if you have gum disease.
What Gum Disease Means
Next to tooth decay (the condition that causes cavities), gum disease is the second-most common dental health issue for adults. Its first stage, known as gingivitis, begins when harmful oral bacteria overwhelm and infect your gum tissues. The infection leads to your gums separating from your teeth roots, creating pockets where more bacteria can gather and exacerbate the infection. It can also lead to increasingly worse bad breath as more bacteria accumulate.
The Common Symptoms of Gum Disease
In addition to gum recession, you might also notice that your gums are red and slightly inflamed. When you brush and floss your teeth, small droplets of blood from gums can get mixed up in your toothpaste and saliva. Over time, your teeth will grow loose due to the weakened support caused by gum recession, and if left untreated, your gum disease could lead to the loss of one or more teeth.
Find Out if You Need Gum Disease Treatment
If you notice these or other signs of trouble with your gums, then you should visit your dentist as soon as possible to address it before your gum disease becomes more serious. To learn more, schedule an appointment by calling the Sunny Smiles dental office nearest you in El Paso, TX, today! We have offices in the East, Northeast, and Westside of El Paso, and happily welcome patients from all nearby communities, including Chaparral, Canutillo, Vinton, and Sunland Park, New Mexico.