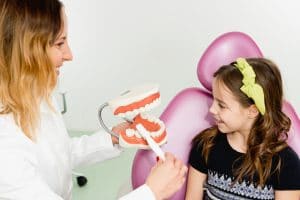 Good hygiene is one of the first things we teach children, and it's also one of the longest-lasting lessons that they carry with them. Nevertheless, those lessons aren't always easy, and working together with your child's dentist can be the best way to teach them. Fortunately, good hygiene practices aren't necessarily difficult to learn; the trick is to make learning how to care for their teeth fun enough for children to stay engaged. Today, we take a look at a few ways in which you can make learning about dental health and hygiene fun and entertaining for your children.
Making Hygiene Fun
Children love to learn, but they also love to have fun. Therefore, forcing them to stay still and pay attention long enough to clean their teeth properly can be the most challenging aspect. Instead, make brushing and flossing fun by tying the routine to a story. Challenge your child to clean away all of the bad guys (plaque and food particles) in time to save their teeth, or make it a game to see who can clean their teeth the best.
To be effective, teeth brushing should last for at least two minutes to give your child enough time to thoroughly clean every tooth. You can make those minutes pass faster for your child by playing his/her favorite song while you brush and floss your teeth together.
Patterns are important, and if children are always made to brush and floss before going to bed, then they'll quickly associate good hygiene with bed time, creating even further resistance. Instead, teach children to brush and floss shortly after dinner and right before allowing them to watch their favorite show or play their favorite game. Brushing and flossing will then become something they must do in order to do something else that they enjoy much more.
Learn More About Teaching Kids Good Hygiene
What you teach your children about keeping their smiles healthy will impact their dental hygiene and oral health for life. To learn more, schedule an appointment by calling the Sunny Smiles dental office nearest you in El Paso, TX, today! We have offices in the East, Northeast, and Westside of El Paso, and happily welcome patients from all nearby communities, including Chaparral, Canutillo, Vinton, and Sunland Park, New Mexico.