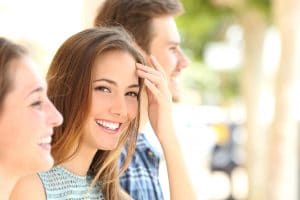 When you think of your smile's appearance, your main concern may be how your teeth look. However, there's more to a smile than just teeth, such as the gum line that surrounds and protects them. When your gum tissues cover an excessive or uneven amount of your teeth, their asymmetrical appearance can impact the overall appearance of your smile, making your teeth seem imbalanced even if they're even. Fortunately, cosmetic gum contouring can help you perfect your smile's appearance by correcting the outline of your gums, creating a healthier and more attractive frame around your smile.
What Is Gum Contouring?
Gum contouring is the gentle process of reshaping the gum line that frames your smile. The process involves minor oral surgery to trim away the excess gum tissues, and therefore, you may benefit from dental sedation before your procedure. However, it is still a minimally invasive procedure, focusing only on areas of tissue that extend over too much of your tooth structure. Before recommending gum contouring, your dentist will carefully examine your gums, teeth, and oral health to ensure that it's the right option for your smile.
The Long-Term Benefits
The immediate benefit of gum contouring is the confidence you can now enjoy in knowing that your gum line matches the healthy, beautiful appearance of your teeth. However, trimming away excess gum tissues also provides long-term benefits for the health of your teeth and gums. For instance, gingivitis (the precursor to gum disease) forms when oral bacteria settle underneath your gum tissues, where your toothbrush and floss can't reach them. A gummy smile can give oral bacteria more places to hide; therefore, gum contouring can reduce your risks of gum disease by reducing the risks of harmful oral bacteria hiding underneath your gums.
Find Out if Gum Contouring Is Right for You
Customized, minimally invasive gum contouring can give your smile the finishing touch it needs, and/or to reduce your risks of developing gum disease. To learn more, schedule an appointment by calling the Sunny Smiles dental office nearest you in El Paso, TX, today! We have offices in the East, Northeast, and Westside of El Paso, and happily welcome patients from all nearby communities, including Chaparral, Canutillo, Vinton, and Sunland Park, New Mexico.