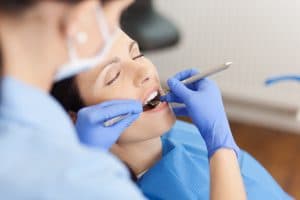 Checkups and cleanings are the most well-known form of dental treatment, but many patients don't fully realize their importance. Your visits do more than give your dentist a chance to judge how well you take of your teeth. They're also important for preventing dental issues like tooth decay and gum disease, and for detecting bite problems early, before they cause significant dental damage. For most patients, checkups and cleanings are most effective when they attend them at least twice a year. To get the most of each visit, we take a look at what you should know before you visit your dentist.
What to Do Before Your Visit
Every day, you should make sure your teeth and gums are clean by brushing them at least twice a day and flossing at least once. Additionally, make sure you brush and floss right before every checkup and cleaning appointment. Ensuring that your teeth are clean at home will make it easier for your hygienist to clean away the things your toothbrush can't, like tartar (calcified plaque and oral bacteria). It also reduces your risks of being embarrassed by excessively dirty teeth when you visit your dentist.
What Your Dentist Will Check
Cleanliness is vital to prevention, but it isn't the only point of a checkup and cleaning appointment. During your visit, your dentist will also perform a comprehensive clinical examination, including X-rays when necessary, to check for signs that you may already be at risk of a dental disease. Detecting such issues early helps prevent extensive damage and disease to your teeth and gums, which is the next best thing to prevention.
Schedule Your Next Checkup and Cleaning
Regular checkup and cleaning appointments are the backbone of keeping your smile healthy for life. To learn more, schedule an appointment by calling the Sunny Smiles dental office nearest you in El Paso, TX, today! We have offices in the East, Northeast, and Westside of El Paso, and happily welcome patients from all nearby communities, including Chaparral, Canutillo, Vinton, and Sunland Park, New Mexico.