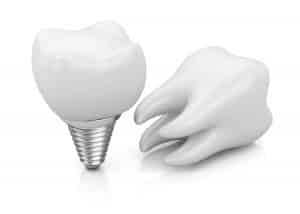 For many patients, the most important reason for replacing lost teeth is to restore the appearance of their smiles, as well as improve the function of their bites. While most of today's prosthetic dental appliances can accomplish both goals effectively, there is more to consider about tooth loss than just how your smile looks. For instance, conventional bridges and dentures can eventually lose their grip and move about your dental ridge uncomfortably. They also cannot address the loss of your teeth roots—at least, not without the help of dental implants. If you need to replace one or more teeth, then your dentist may recommend that you consider dental implants for their profound, lifelong benefits.
Unmatched Comfort
Dental implants are small posts that are inserted into your jawbone, and they serve the dual purposes of supporting your dental prosthesis and stimulating your jawbone. Immediately after your implant-supported prosthesis is placed, you can experience the unmatched comfort of having your replacement teeth anchored much like your healthy, natural teeth roots. Unlike conventional appliances, the implant posts prevent your bridge or denture from shifting along your dental ridge over time.
Better Jawbone Preservation
In addition to holding your replacement teeth securely in place, implant posts also help improve your oral health by providing vital stimulation to your jawbone. When you bite and chew, the stimulation of your teeth roots helps ensure a proper flow of nutrients to your jawbone. By replacing that stimulation, dental implants help you maintain your jawbone's strength and integrity, thereby reducing your risks of jawbone deterioration and further tooth loss.
Learn More About Dental Implants
If you've lost one or more teeth, then ask your dentist if you should consider dental implants for replacing them. To learn more, schedule an appointment by calling the Sunny Smiles dental office nearest you in El Paso, TX, today! We have offices in the East, Northeast, and Westside of El Paso, and happily welcome patients from all nearby communities, including Chaparral, Canutillo, Vinton, and Sunland Park, New Mexico.