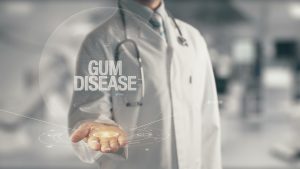 Gum disease is slightly different for everyone, but for those who develop it, the threats are generally the same. As it progresses, gum disease destroys the periodontal tissues, ligaments, and jawbone structure that support your teeth. Because the disease involves rampant inflammation in your gums, it can also have a significant impact on your overall wellbeing. Therefore, treating gum disease, preferably in its earliest stages, can help prevent its most serious consequences, or help you recover from them if necessary.
It's the Main Cause of Tooth Loss
There are many reasons for tooth loss, including accidental trauma or extreme cases of internal tooth decay. However, severe gum disease is the leading cause of adult tooth loss thanks to the damage that it causes to your teeth's supportive structures. Gum disease begins as an infection in your gums, known as gingivitis, and can quickly progress if left untreated. As it does, the bacteria and infection cause unchecked inflammation that destroys gum tissues and can eventually affect the jawbone underneath, which supports your teeth roots.
It Can Affect Your Overall Health
The early symptoms of gum disease are generally not obvious, which can fool patients into ignoring minor things like red or slightly bleeding gums. By the time many patients seek treatment, the inflammation and disease have already grown severe enough to cause significant damage. As your immune system becomes exhausted trying to control gum inflammation, it can leave you more susceptible to other illnesses. Also, the presence of rampant tissue inflammation can increase your risks of experiencing inflammation in other areas of your body, which is a risk factor in chronic diseases such as heart disease and diabetes.
Learn More About Preventing and Treating Gum Disease
If you're worried about gum disease, then visit your dentist for a thorough examination to diagnose and treat it as soon as possible. To learn more, schedule an appointment by calling the Sunny Smiles dental office nearest you in El Paso, TX, today! We have offices in the East, Northeast, and Westside of El Paso, and happily welcome patients from all nearby communities, including Chaparral, Canutillo, Vinton, and Sunland Park, New Mexico.