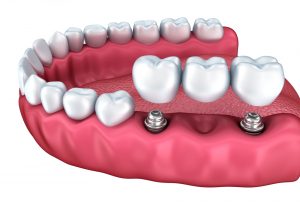 Tooth loss can occur for numerous reasons, from the severe advancement of a dental health issue to a sudden, traumatic impact that breaks the tooth or destroys its connective tissues. For instance, gum disease destroys the foundations that support your teeth, namely gum tissue and jawbone structure, until teeth have no legs to stand on, so to speak. If one or more teeth are already missing, then your smile's foundation may already be eroding, with or without the presence of gum disease. Fortunately, dental implants can help prevent further tooth loss by replacing a vital component of your lost teeth—their roots.
Underneath Your Gums
Your teeth's roots are embedded in sockets within your jawbone, and they help teeth better absorb the impact of biting and chewing. Your jawbone supplies your teeth with necessary minerals and nutrients through their connected roots. When teeth roots are lost, the bone surrounding them is resorbed by the body's cells and its nutrients are dispersed. Without the stimulation of a tooth root, the jawbone's nutrient supply will decrease, leading the jawbone deterioration and further tooth loss if the root is not replaced.
What Dental Implants Do
Dental implants are small posts that are surgically inserted into the jawbone, which fuses to the metal posts as it heals. After about 4-6 months, the implants will be securely in place, with small connective abutments protruding out of the gum line. Dental implants allow the impact of biting and chewing with your new teeth to benefit your jawbone by stimulating its blood flow. With the addition of dental implants, your replacement teeth can also help you prevent losing teeth in the future due to a weakened jawbone.
Learn More About Dental Implants and Tooth Loss
To learn more about how dental implants can help you avoid further tooth loss, schedule an appointment by calling the Sunny Smiles dental office nearest you in El Paso, TX, today! We have offices in the East, Northeast, and Westside of El Paso, and happily welcome patients from all nearby communities, including Chaparral, Canutillo, Vinton, and Sunland Park, New Mexico.