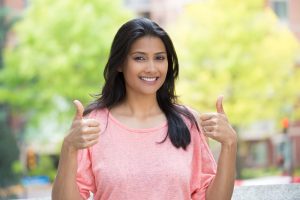 Because your teeth cannot repair themselves when damaged or threatened by disease, modern dentistry focuses much attention on creating effective, discrete man-made solutions to reinforce weakened teeth. As a custom-designed, fabricated replica of your tooth, a dental crown can offer a wide range of benefits in a number of different circumstances. Today, we explore some of these benefits, and why today's dental crowns are vital to many successful dental restorations.
Dental crowns as tooth reinforcement
One of the oldest and most common uses for dental crowns is to reinforce teeth that have either suffered structural damage or been weakened by infectious tooth decay. Your teeth are repeatedly subjected to an impressive amount of biting and chewing pressure. A weakened tooth, however, may not be able to withstand this pressure. To protect it, a dental crown can be custom-crafted after the shape of the tooth, then placed over it as a shield against bite pressure. Thanks to this reinforcement, many patients can retain more of their natural tooth structure after suffering a tooth affliction, improving the integrity and longevity of their smiles.
Dental crowns as tooth replacements
How dentists replace lost teeth has vastly improved, and today, replacement teeth can preserve your long-term oral health as well as restore your smile. As single tooth replacements, dental implant-supported crowns eliminate the need for a dental bridge, which relies on the support of remaining teeth adjacent to the lost one. By standing on its own fabricated tooth root, a dental crown can replace your lost tooth without disturbing healthy tooth structure, which is always a preference in any dental procedure.
Is a Dental Crown Your Best Option?
If your tooth needs to be reinforced or replaced, then ask your dentist about the benefits of choosing a lifelike dental crown. To learn more, schedule an appointment by calling the Sunny Smiles dental office nearest you in El Paso, TX, today! We have offices in the East, Northeast, and Westside of El Paso, and happily welcome patients from all nearby communities, including Chaparral, Canutillo, Vinton, and Sunland Park, New Mexico.