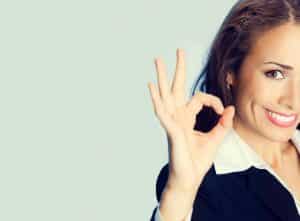 Patients who are unhappy with their smiles because stains, chips, odd spacing, or slight crookedness mar their teeth's appearance tend to hide their smiles more often than they show them. Porcelain veneers are wafer-thin shells of dental porcelain that are bonded to the fronts of a patient's teeth to cover such potentially embarrassing blemishes. If your smile's imperfections seem overwhelming, then porcelain veneers may provide the conservative treatment you need to successfully improve your smile's appearance.
How Porcelain Veneers Are Placed
Every porcelain veneer is hand-crafted in a trusted dental lab according to the specific dimensions of your tooth. During your first appointment, your dentist will prepare your teeth by removing a minimal amount of enamel, typically between.3 and .5 mm, to accommodate the porcelain shells. Then, he'll make an impression of your teeth, which the lab will use to carefully craft your custom veneers. During your next visit, your dentist will expertly bond the veneers to the teeth in question, creating a new visage for your smile with just one procedure. Because of their effectiveness, porcelain veneers are often referred to as an "instant smile makeover," and can address a wide variety of cosmetic concerns.
What They Can Do for Your Smile
By concealing the most visible parts of your teeth, porcelain veneers can improve a number of issues, including severely stained, chipped, cracked, oddly spaced, or slightly crooked teeth. As cosmetic treatments, however, porcelain veneers are limited in their ability to restore a smile. For instance, teeth that are cracked severely enough to expose their inner tissues may require a root canal procedure to remove infection from the tooth's inside, and a dental crown to restore its ability to function after the procedure. Teeth that are significantly misaligned may require orthodontic braces to completely reposition them. After a thorough consultation and examination, your dentist will discuss your smile's needs and the appropriate solution to address them.
Find Out if Porcelain Veneers Are Right for You
If you want to improve your smile, then ask your dentist if porcelain veneers are the right choice! To learn more, schedule an appointment by calling the Sunny Smiles dental office nearest you in El Paso, TX, today! We have offices in the East, Northeast, and Westside of El Paso, and happily welcome patients from all nearby communities, including Chaparral, Canutillo, Vinton, and Sunland Park, New Mexico.