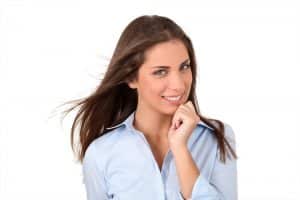 The main purpose of your gums is to protect and support the roots of your teeth as they extend out of your jawbone. However, their appearance also has a significant impact on the appearance of your overall smile. When gum tissues are uneven or cover too much of one or more teeth, the result is often called a gummy smile, and can make the rest of your smile seem crooked and off-balance. Fortunately, in many cases, gum contouring can restore your confidence by restoring the esthetic appeal and symmetry of your gums and smile.
How a Gummy Smile Comes to Be
A gummy smile refers to gum tissues that cover a disproportionate amount of your teeth, and it can be caused by a number of different factors. For instance, if your teeth erupted abnormally in childhood, or if you experienced abnormalities with your jawbone growth, then the issue may affect the symmetry of your gums in adulthood. Regardless of the cause, a gummy smile affects not only your smile's appearance, but can also raise your risks of dental health issues, like gum disease, that could lead to more serious concerns.
What Is Gum Contouring?
Gum contouring is the minimally invasive process of gently reshaping the outline of your gums. The procedure involves minor oral surgery, as your dentist will use a scalpel to perform gum contouring. For improved comfort, your dentist may suggest an appropriate level of dental sedation to help you remain calm and relaxed throughout your treatment.
Ask Us More About Cosmetic Gum Contouring
If you have a gummy smile that's holding you back, then regain your confidence with minimally invasive cosmetic gum contouring! To learn more, schedule an appointment by calling the Sunny Smiles dental office nearest you in El Paso, TX, today! We have offices in the East, Northeast, and Westside of El Paso, and happily welcome patients from all nearby communities, including Chaparral, Canutillo, Vinton, and Sunland Park, New Mexico.