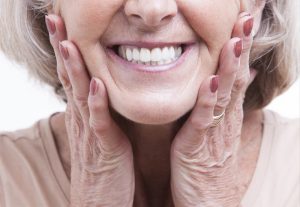 If you've lost all of your teeth on both of your dental ridges, then you may have concerns about whether dental implants can restore such extensive damage. The truth is, complete tooth loss is even more reason to consider supporting your denture or dentures on dental implants. They can prevent the continuing recession of your jawbone that accompanies the loss of your teeth roots, and implants may be your last chance at preserving your oral health in the face of full tooth loss.
Dentures for Tooth Loss
Edentulous patients (those who've lost all of their teeth) have long found the solution to their dilemma in the form of full dentures. The relationship of a fully-functioning mouth to overall quality of life was recognized early in human history, and evidence of teeth-replacement attempts date back thousands of years. Today, dentures are expertly crafted to mimic your natural smile in both appearance and function, allowing you to enjoy the feel of a full smile and the ability to eat and speak comfortably again.
Fully Rebuilding Your Smile
As advanced as modern dentures are, maintaining your oral health after tooth loss depends on replacing more than the visible portions of your teeth. Healthy teeth roots, which are embedded in your jawbone, provide stimulation when you bite and chew that helps maintain your jawbone's nutrient supply. Dental implants, which are shaped like teeth roots and surgically inserted into your jawbone, help restore this stimulation while providing the most stable platform to anchor your full dentures. Depending on the stability of your jawbone, your dentist will recommend the appropriate amount of dental implants to successfully support your custom-made denture or dentures.
Ask Us More About Implant-Supported Dentures!
If you wear one or more traditional dentures, then find out how dental implants can significantly improve your replacement teeth! To learn more about dental implant-supported dentures, schedule an appointment by calling the Sunny Smiles dental office nearest you in El Paso, TX, today! We have offices in the East, Northeast, and Westside of El Paso, and happily welcome patients from all nearby communities, including Chaparral, Canutillo, Vinton, and Sunland Park, New Mexico.