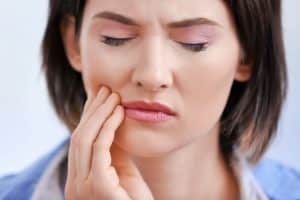 A toothache isn't exactly a dental issue; it's a symptom that is shared by a large number of dental issues. When your toothache persists, the best way to find relief is to let your dentist find the reason why. The most common reasons for toothaches typically involve damage or infection to your tooth's structure; therefore, treating a toothache may require restoring the tooth and rebuilding its structure with a custom-designed restoration.
1. You have a cavity.
A cavity—one of the most common causes behind toothaches—describes a steadily growing hole in your tooth caused by progressive tooth decay. As a cavity forms, the enamel around your teeth becomes weak and compromised, allowing food particles, oral bacteria, and more to irritate your exposed tooth structure. The pain from a cavity becomes stronger and more pronounced the larger the cavity grows, and the only way to alleviate it is for your dentist to treat the cavity with a filling.
2. Your tooth is damaged.
Accidental trauma, excessive pressure (i.e., bruxism), and more can lead to varying degrees of tooth damage, such as cracks, fractures, and breaks. Such damage can cause immediately severe tooth pain, and the damage will grow worse from your bite pressure until your dentist repairs the tooth with a custom restoration.
3. You have an abscessed tooth.
A tooth abscess is a pocket of infection that develops on your tooth's root within the gums and/or jawbone. The abscess can cause the most severe tooth pain related to tooth infection, and if it ruptures, then the infection can compromise the surrounding gum tissues and jawbone structure. The best way to detect and treat an abscess is to schedule an examination with your dentist as soon as the pain starts.
Find Out Why Your Tooth Aches!
If your tooth aches, then finding out why is the first and most important step in treating it! To find lasting relief from your toothache, schedule an appointment by calling the Sunny Smiles dental office nearest you in El Paso, TX, today! We have offices in the East, Northeast, and Westside of El Paso, and happily welcome patients from all nearby communities, including Chaparral, Canutillo, Vinton, and Sunland Park, New Mexico.