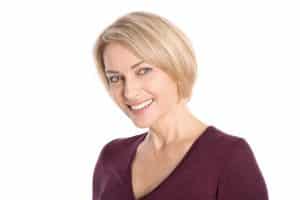 Dental implants, which are small, root-like posts that are placed within the jawbone, are among the most lifelike and beneficial options for replacing lost teeth. As the only option that can replace the roots of lost teeth, dental implants offer a number of benefits compared to more conventional appliances. They are also the only way to completely rebuild your smile, complete with restoring the stimulation in your jawbone that decreases when you lose teeth roots.
1. Unmatched support and comfort.
Traditional prostheses, like dental bridges and dentures, are highly effective at replacing lost teeth. However, they rely on external support systems, such as crowns attached to healthy teeth or the curvature of your dental ridge. By contrast, dental implants can support a crown, bridge, or denture in the same manner as roots supporting your healthy teeth, and therefore provide unmatched support and comfort for your new smile.
2. Lifelong restoration.
With the right care and maintenance, dental implant posts can last for life once placed in your jawbone. If your dental bridge or denture becomes worn and needs replacement, then your dentist can support your replacement prosthesis on the same implants, making for a simpler and more convenient process.
3. Almost everyone qualifies.
The good news about dental implants is that nearly anyone who has lost teeth can be a good candidate. Your candidacy is based on the state of your oral health, such as the presence of gum disease and the strength of your jawbone. If you have gum disease, then your dentist can recommend appropriate treatment to control it. If your jawbone is weak, then your dentist may suggest bone grafting to strengthening it, making you eligible for implant placement.
Find Out if You Can Benefit from Dental Implants
If you've lost one or more teeth, then speak with your dentist about the benefits of replacing them with an appropriate number of dental implants. To schedule a consultation, call the Sunny Smiles dental office nearest you in El Paso, TX, today! We have offices in the East, Northeast, and Westside of El Paso, and happily welcome patients from all nearby communities, including Chaparral, Canutillo, Vinton, and Sunland Park, New Mexico.