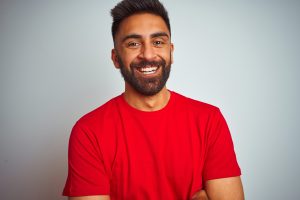 No matter how long they have bothered you, or how severe they are, smile flaws can be a big drain on your confidence. Cosmetic problems with teeth vary . Some people are primarily concerned with discoloration, while others may have issues with dental damage, or with naturally occurring issues with tooth shape or size. Sunny Smiles is prepared to help those who want to leave their concerns about the way they look behind them. What many people learn is that porcelain veneers give them the means to address all of their flaws with just one procedure, which can lead to a stunning, permanent change!
Do You Feel Comfortable With Your Smile?
Even relatively minor issues can draw enough unwanted attention to seriously compromise your smile. A chip in your tooth, a problem with spacing, and other "slight" flaws can hurt the way you look by robbing you of facial symmetry and drawing too much unwanted attention. Of course, for many people, cosmetic dentistry is sought as a means to address several issues. We provide different treatment options, and can work with you to find a solution that fully responds to your concerns. Porcelain veneers are often helpful to those who want to change how they look. When placed, these restorations positively change the color, shape, and size of teeth, and can even help if you have concerns about your alignment.
Using Veneers To Make Positive Changes To Your Appearance
Porcelain veneers are custom-made for the individual undergoing treatment. To ensure that they are the right shape and size for your smile, we will closely measure your teeth. This measurement, along with minor preparatory work, will take place before you have your restorations permanently set in place. The bonding process for veneers is permanent, and the durable porcelain material used to make these slim shells makes it possible for you to preserve your improvements for many years!
What Else Can I Do To Improve My Smile?
If you are looking for a shorter, more conservative treatment option, you may be interested in tooth bonding and contouring work. This approach does not require permanent restorations. Instead, flawed teeth are carefully reshaped, and a resin material is applied to the enamel to hide damage, discoloration, and other concerns. For teeth that are seriously hurt, or for those that fail to provide adequate bite support, we can recommend treatment with dental crowns.
Talk To Sunny Smiles About Treatment With Porcelain Veneers
Through treatment with porcelain veneers, we can help you take on your smile flaws and show off stunning improvements! This is one of several treatments available to those who currently lack confidence in the way they look. To find out more about how we can take care of you, contact Sunny Smiles in El Paso, TX by calling 915-859-7000.