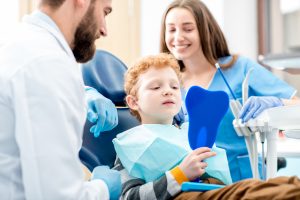 You want your children to enjoy quality healthy care in all regards. When it comes to their dental health, the right experience at the dentist's office can have lasting advantages. You can stay informed about the development of your kids' growing smiles, be alerted to any problems, and even receive helpful guidance on how you can help them protect their teeth from decay and other issues. Sunny Smiles actually makes oral health services more accessible to El Paso, TX area households by offering appointments for kids as well as adults. You can bring everyone in your family to see us for ongoing support!
When Is It A Good Idea To Bring Your Child To See A Dentist?
After their first tooth arrives, you should bring your child in to see their dentist. At around the age of three, kids should begin to come in for regular semiannual dental exams. Just as parents benefit from appointments every six months, kids should enjoy access to regular semiannual visits. We can provide age-appropriate care to help fight plaque buildup, identify potential cavity issues, and give general updates about their health and development. Early visits are also a good idea because you can learn more about how to help your child care for their teeth while they are too young to reliably brush and floss on their own.
How Early Visits Set Kids Up For Better Oral Health Support Over Time
At their earliest appointments, our team will take care to make your child feel warmly received at our office, and safe in the dentist's chair. The right impression at the start can make future visits less stressful to them, which can lead to better interactions and more comfort at future visits. Younger children also gain the advantage of learning how to properly care for their smile from their dentist. These instructions, along with information on why they should take smile care seriously, can have lasting value as it makes them better equipped to prevent difficulties.
Our Practice Can Take Care Of Everyone In Your Household!
Our office makes it easier for you to secure care for everyone in your household! We provide services to patients of all ages, so you can set up your own preventive dental appointments when you bring your kids in for services. This means fewer errands, as you have one trusted location for all of your smile concerns.
Talk To Sunny Smiles To Schedule Dental Care For Your Children!
Patients of all ages can count on our office for important oral health care! If you are due for an appointment, or if you need to find a location ready to help your kids, contact Sunny Smiles in El Paso, TX by calling our Dyer St office at 915-859-7000.