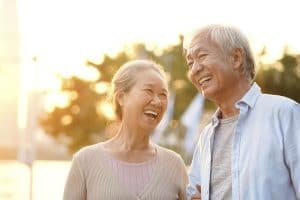 Tooth loss can be a big source of anxiety for a person, as they can dread how a gap in their smile affects how they are perceived. While this is a significant concern on its own, it should be noted that tooth loss also creates difficulties for a person's dental health by affecting the way they bite and chew. Without treatment, your incomplete smile can make you rely too much on remaining teeth, ultimately wearing them down. It can also cause you to develop lingering aches and pains because of TMJ disorder. Our El Paso, TX dentist's office is prepared to help by restoring your full smile. The placement of a dental bridge can give you a lifelike prosthetic restoration to cover a smile gap. Because this restoration stays secure, you can depend on it for biting and chewing support and as a means of improving your smile!
The Benefits Of Prosthetic Dentistry
Through prosthetic dental work, a person's smile, bite, and general dental health can see real improvements. Few problems with your dental health create the kind of anxieties and difficulties that tooth loss can. In addition to creating problems for your smile, this issue can make you more vulnerable to teeth loosening and being lost, it can make biting and chewing uncomfortable, and it can result in the overuse of the teeth that remain. The right approach to prosthetic dentistry can provide cosmetic benefits as well as protection for your oral health function.
A Dental Bridge Can Be Placed Without Oral Surgery
Dental bridges are custom appliances that include dental crowns and at least one pontic (replacement tooth). They are designed to blend in with your smile when placed, which means that they can avoid detection and restore confidence in your appearance. The dental crowns are capped on the teeth surrounding a gap; they provide enough support to let you bite, chew, and speak comfortably once you have your bridge. Because crowns are depended on for support, your procedure will not require oral surgery to ensure that your restoration stays secure.
Did You Develop Jaw Pain After Tooth Loss? TMJ Treatment Can Help
The change in your bite function forced by tooth loss can impact your well-being over time. A flawed bite can lead to stress that causes jaw pain and stiffness, headaches, and teeth grinding. If these issues affect you, our practice can provide support through TMJ treatment. With a custom appliance, we are able to change the position of your jaw in order to relax it, and help realign your joints in order to reduce discomfort.
Talk To Your El Paso, TX Dentist About Receiving A Dental Bridge
Sunny Smiles in El Paso, TX is prepared to help patients when they require treatment for tooth loss! If you wish to learn more, please contact our El Paso, TX, dentist's office on N. Zaragoza Road by calling 915-849-9000.