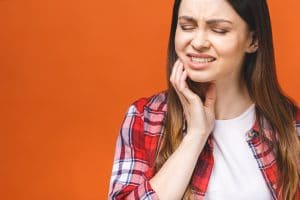 If you are suffering from tooth pain, but have no clear idea of what is causing your discomfort, it can be hard to keep out some anxious thoughts. Just how serious is the problem, and what will the appropriate restorative dental treatment involve? Is it already too late to save a tooth, meaning your dentist will have to extract it? Problems with prolonged pain and sensitivity should be taken seriously, because the cause could be a serious oral health concern. If your tooth is infected, bacteria can begin to travel through the roots of your tooth to spread to new areas. Fortunately, when an infection is caught in time, the tooth's health can be restored through root canal treatment and the placement of a dental crown. Our El Paso, TX dentist's office has experience restoring teeth in poor condition. After an evaluation, we can find the most conservative solution to your problem and put a stop to your struggles with pain!
Tooth Pain Can Be A Sign Of Serious Dental Trouble
It is important that you take symptoms of a tooth infection seriously. An infection can occur after an injury, or one can form when you have an advanced cavity that gives bacteria access to the pulp, the tooth's inner chamber. In time, the bacteria will spread and multiply while damaging the pulp, eventually moving through the roots of the tooth. If nothing is done, this can lead to pain, sensitivity, and problems with swelling around the tooth. Waiting too long for treatment does put you at risk for losing the tooth, which is why you should not delay care if you think something is truly wrong.
Am I At Risk For Losing The Tooth?
The more time you spend ignoring a chronic toothache, the more you raise your risk for needing a tooth extraction. Your dentist will check on the status of the tooth during an appointment to see what can be done to treat you. You should know that extraction is a last resort, only done when there is no option left for saving your tooth. If it can still be done, we can save the tooth through root canal therapy and the placement of a dental crown.
Emergency Care Is Available For Severe Pain
If you are in severe pain, or if you feel that the tooth is likely in need of urgent attention, know that emergency dental appointments are available. At your visit, we can evaluate the tooth and find out what is wrong, then perform the necessary treatment. We also offer emergency services for patients who experience physical trauma, which can also put you at risk for tooth loss.
Talk To Your El Paso, TX Dentist About Issues With Tooth Pain
Are you suffering from dental pain? If so, you may be at risk for serious oral health trouble – make sure you let your dentist know what is happening as soon as possible. You can contact our El Paso, TX, dentist's office on N. Zaragoza Road by calling 915-849-9000.