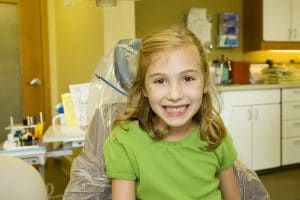 While it takes several years for children to develop the coordination to effectively brush their own teeth, they require protection against dental decay as soon as their teeth start to arrive. In addition to providing care for their primary (baby) teeth as they come in, you should introduce your child to their dentist at the appropriate time so they can begin receiving valuable checkups. Our El Paso, TX dentist's office is prepared to help patients of all ages prevent oral health troubles. In addition to having an introductory visit around the time when their first tooth arrives (or by the time of their first birthday), kids should start attending regular exams by age three. At their appointments, their dentist can talk to them about why oral health care is important, and also receive tips on how to keep their teeth in good condition.
What Do Young Children Really Need To Know About Oral Hygiene?
While young children may need time to develop the dexterity for brushing and flossing, they can benefit from discussions at an early age. Simply helping them see smile care as important, and helping them understand how their choices affect their teeth, can be beneficial. As they mature and take on more responsibilities for themselves, this information can make them more likely to commit to good brushing and flossing habits on their own. It can also help them take warnings about sugar and cavities more seriously, so they are less likely to make diet choices that hurt their teeth.
Early Appointments Help Make The Dentist's Office Feel Safe And Comfortable
At a child's first visit, your dentist can focus on making them feel welcome and safe inside of a new, potentially strange environment. When they transition into more traditional preventive care, our practice will work to make sure they feel safe and secure as their teeth are examined and cleaned. With these visit, kids are less likely to develop early problems with dental decay that require treatment. With that said, we can take care to restore teeth affected by cavities with minimally intrusive, conservative restorations if they do have problems.
Lasting Benefits Of Dental Visits At A Young Age
Even if they are not old enough to brush and floss for themselves, an early introduction to oral hygiene can help ready kids for these tasks at a later date. Committing to good oral health care can also help them take their need to clean their teeth seriously as they age. While these visits are good for establishing the right priorities, remember that you also have a role to play in encouraging them. Attending your own regular dental exams, and taking your smile care seriously at home, will give them a positive role model to reference as they care for their teeth!
Bring Your Child To Your El Paso, TX Dentist's Office!
At our El Paso, TX dentist's office, patients of all ages can look forward to consistent, thorough care in a friendly environment. To schedule an appointment for yourself or a family member, please contact Sunny Smiles in El Paso by calling 915-859-7000.