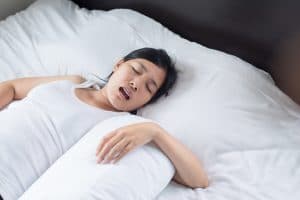 Do you snore? If so, this could not only bother your significant other, but could also indicate the potential for a sleep disorder. In today's blog, your El Paso, TX, dentists look at what causes us to snore, and discusses possible solutions, from oral appliances to a few simple changes to your nighttime routine.
The Causes of Snoring
We snore when our breathing is partially blocked during the night. The soft tissues in the back of the mouth and in our throat could partially collapse and obstruct airflow. As air is forced through when we breathe, this vibrates tissues and creates a loud noise. Causes could be linked to obesity, the presence of obstructive sleep apnea (OSA), neck circumference, sinus and allergy issues, deviated septum, and even age and gender (men over the age of 55 tend to be especially likely to develop sleep disorders, but people of all genders, even in their teen years, could still suffer from OSA). As part of your treatment, we will need to identify the factors behind your nightly snoring!
Positive Changes to Your Sleeping Habits
First, be sure to sleep on your side instead of your back, which limits the chances for soft tissues to collapse. Avoid alcohol before bed, as well as strenuous activity, large meals, and caffeine. Keep your bedroom dark and cool, and avoid screens in the bedroom, such as TVs or computers. Don't look at your smartphone while you fall asleep, as the blue light the device emits could be interpreted as sunlight by your brain. Finally, try to maintain a regular sleep schedule, which means going to bed and waking up at the same times daily, even on weekends and holidays.
Treatment Options
If changes to your daily routine fail to help, or if we uncover the warning signs of sleep apnea and other disorders, then we may suggest an oral appliance. The device will be created based on detailed x-rays, images, and impressions we take of your smile. The device will look and fit much like a mouthguard, but actually repositions the jaw, moving it forward to help prevent the collapse of soft tissues. You breathe without interruption and enjoy a better night's rest. Your significant other can also enjoy a better night's rest too! If you have any questions or concerns about addressing sleep difficulties, then contact our team today to learn more.
TALK TO SUNNY SMILES IN EL PASO ABOUT BETTER SLEEP
At Sunny Smiles in El Paso, TX, we would like to help you enjoy a better night's rest with routine preventive care and general treatments. Remember, lack of proper rest impacts your quality of life and can even lead to serious health issues over time! If you have questions about our approach to sleep apnea treatment, then you can reach our East El Paso dental practice on 10039 Dyer St., at 915-859-7000!