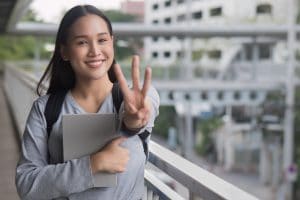 You have the capacity to do a great job managing your oral health on a daily basis. By practicing smart oral care habits, you keep your smile free of harmful oral bacteria that can build up and create problems. By continuing to enjoy a smart diet – one that is low in sugar – you can protect yourself against decay, and prevent cavities. However, even people who swear by their oral care routine are sometimes surprised to learn that their habits have not been as effective as they anticipated. If you want to be certain that your smile is healthy, make sure you are seeing your dentist on a semiannual basis. At our El Paso, TX dental practice, we can help you take fantastic care of your smile during every routine dental checkup!
1. You Receive Professional Dental Cleanings That Keep You Safe From Tartar And Other Harmful Agents
As effective as brushing and flossing are at protecting your smile, you should take advantage of the regular dental cleanings that your dentist offers. Each time you go in for a routine appointment, your hygienist can thoroughly go over your smile with professional tools to remove plaque, tartar, and any harmful food debris remaining on your teeth. Tartar removal is particularly important, as it takes a professional cleaning to dislodge any deposits found. While you may be confident in your daily routine, having these sessions can protect you against any oversights, and ensure that you continue to maintain good oral hygiene.
2. Each Visit Is A Chance To Identify Developing Tooth Decay
If you have a problem with tooth decay, early detection and treatment can lead to an easier restorative dental procedure. By seeing your dentist on a semiannual basis, you ensure that a cavity has relatively little time to form, and damage your tooth structure. When a problem is caught in time, your tooth can be fully protected after a dental filling is placed. People who do not see their dentist for exams may not know that something is wrong until the cavity on their tooth causes internal problems, and requires a root canal!
3. Your Dentist Can Help You Manage More Problems Than You May Expect
Would you think to see the dentist to deal with a snoring problem, or an inability to feel properly rested? Our practice can help you manage sleep apnea, a condition that can cause a person to snore, and robs them of the ability to gain truly restful sleep. We can also help you manage problems with headaches, teeth grinding, and other problems associated with TMJ dysfunction, a problem that can seriously interfere with your quality of life.
Set Up Regular Dental Checkups At Sunny Smiles In El Paso, TX
At Sunny Smiles in El Paso, TX, our practice is proud to make great preventive dental care available to our patients! If you have questions about our practice, or if you want to book an appointment, you can reach our East El Paso location on N. Zaragoza Road by calling 915-849-9000!