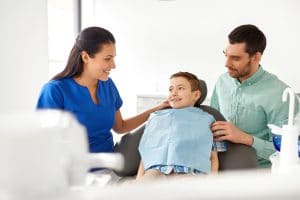 Keeping everyone in your family happy and healthy is obviously an important goal. When it comes to keeping everyone's teeth in top shape, you can be happy to know that our El Paso, TX dental practice can provide quality oral health care to everyone in your family! During pediatric dental visits, we can provide both education on oral hygiene, and effective dental care. Adults can look forward to valuable professional services at every appointment in the form of professional cleanings and exams. In addition to helping to prevent dental troubles, our practice is also ready to take on problems with modern restorative dental treatments.
We Welcome Patients Of All Ages Who Want To Maintain Healthy Smiles
Our practice is prepared to manage the dental needs of everyone in your family! For adults, ongoing care can help them sustain healthy teeth, so that your potential need for dental work is minimized. Kids can require a somewhat different approach. They certainly benefit from the kind of routine services adults enjoy, but they can also require more education on oral care. We take time during pediatric visits to make sure that this is provided.
Providing Dependable Pediatric Dental Care
At their first visit, our practice will make sure your child is warmly received, and that they feel at ease as they adapt to this new environment. Part of providing a positive pediatric oral care experience is making kids feel welcome, and safe – doing so can make them more comfortable with future visits. In addition to providing routine services, your dentist will give instructions about better brushing and flossing, while also helping to educate your child on the value of a healthy smile. If the need arises for restorative work, changes to your child's tooth structure can be minimized as a cavity is filled.
Addressing The Needs Of Our Adult Patients
Sure, adults can be more familiar with the value of smart oral care. That does not mean they are immune to dental problems. If you want to avoid experiences with more involved procedures, like root canal treatments, you should keep up with regular checkups. At these appointments, your teeth are professionally cleaned, and your dentist looks for any signs of trouble. Having a cavity identified and treated in its early stage can limit how much harm your tooth experiences. Of course, you should also keep in mind that your visits to the dentist show your kids that you value a healthy smile, which can encourage them to take their dental care more seriously!
Talk To Sunny Smiles About Arranging Dental Care For Your Family
Sunny Smiles in El Paso, TX is ready to help you take great care of your smile, and we are ready to help you kids maintain healthy teeth, too! If you would like more information, or if you want to schedule an appointment, you can contact our Northeast El Paso practice on Dyer Street by calling 915-759-7000!