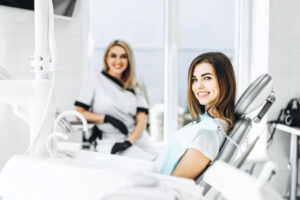 What kind of services should be included in your plans for a smile makeover? For people who are self-conscious about how their teeth look, it can feel as if the focus should be on cosmetic dentistry. However, you may need to include restorative services in your plans to enjoy the full benefits of your procedure. Patients who come to Sunny Smiles for support can find that we offer a range of services capable of helping them feel great about how they look when they smile and speak. Based on the needs and concerns you bring up, we can determine how we can best help you show off your ideal appearance, and we can do so while making sure any oral health issues that need our attention are addressed.
What Should Your Smile Makeover Goals Include?
The end result for a smile makeover plan can look roughly the same for many people—by the time it is done, you can hope to show off a bright, symmetrical smile that is free of any conspicuous flaws. With that said, what you need can differ from another person. For some patients, restorative dentistry can be included in plans because teeth that are damaged, misshapen, or unhealthy in other ways may require this support. For others, multiple cosmetic problems can be resolved with as little as one procedure, making this a more conservative and comfortable process than they anticipate.
Identifying The Need For Restorative And Cosmetic Treatments
By providing a careful review of your teeth and oral structures, our practice is capable of helping you understand what it will take to show off your ideal appearance. We can prioritize work to improve your oral health, as issues related to decay or damage can worsen in time without the appropriate attention and care. The good news is that these services can lead to the kinds of cosmetic changes you hoped to see, as we do offer restorations that are made to imitate healthy enamel. We can then focus on cosmetic dental work in order to positively change the way you look.
Preserving Your Improved Smile
During your routine dental visits, we can check on your smile to see if there are any potential issues, including issues with the results of your smile makeover. As part of a larger commitment to preventive care, this will help you put concerns about losing confidence in your restored appearance behind you!
Talk To Sunny Smiles About Creating A Smile Makeover Plan!
Through your smile makeover plan, we can help to take on problems with your appearance as well as your oral health. If you are ready to find out more, please contact Sunny Smiles on Dyer St in El Paso, TX by calling 915-859-7000.