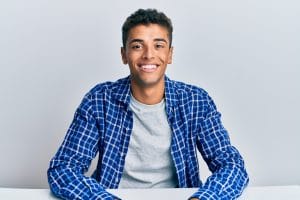 The new year is here, which makes this a great time to start thinking about changes you want to make. For people who feel self-conscious about their smile, cosmetic dentistry can lead to positive changes and a meaningful confidence boost. As you look into the possibility of enjoying a smile makeover, you can find that big results are more attainable than you might have assumed. For many people, just one procedure can cover all of the flaws they intend to address. One way to make big changes is to start plans for treatment with porcelain veneers. We also offer procedures like tooth bonding and contouring, which will change the shape, size, and color of flawed teeth without custom restorations.
What Can You Gain From A Smile Makeover?
A smile makeover can address several issues that make you unhappy with your smile. You can talk to your dentist about making your smile brighter, hiding dental damage, or addressing problems with gaps or overlaps between teeth. If you are affected by general wear and tear from teeth grinding, a cosmetic procedure can make your smile look healthier and younger. Because several cosmetic procedures are capable of addressing multiple problems at one time, the results you want can take less time than you expect!
Big Changes Can Take Less Time Than You Expect
Can your smile makeover be completed with a single procedure? By placing porcelain veneers on flawed teeth, your dentist can cover different concerns about the shape, size, and color of teeth that hurt the quality of your smile. The process of creating and placing veneers typically requires two appointments. At your first visit, your teeth will be closely measured, and minor preparatory can ensure that your veneers fit properly and look natural. Once your restorations are ready for you, they will be affixed to the fronts of teeth to hide different flaws.
Significant changes can also occur after a conservative tooth bonding and contouring procedure. This treatment carefully reshapes teeth, then applies a composite resin material to cover discoloration, damage, and other flaws. If you have a few teeth that stand out for their flaws, this approach can lead to big improvements in a surprisingly short time!
Restorative Work Can Benefit Your Appearance
Teeth that are worn, damaged by decay, or undersized can require oral health care instead of cosmetic work. Fortunately, these teeth can be restored with lifelike dental crowns that imitate healthy enamel. When placed, they can provide visual improvements while also providing functional support and protection for vulnerable teeth.
Talk To Sunny Smiles About Starting A Smile Makeover!
Sunny Smiles is ready to help people interested in a smile makeover! To learn more about your treatment options, please contact our dentist's office on N. Zaragoza Road at 915-849-9000.