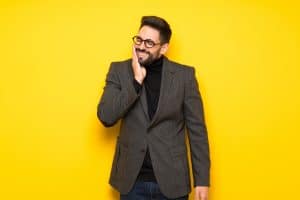 If you are no longer able to do something as simple as move your jaw to speak or eat without pain, it can be a sign that you are struggling with TMJ disorder. This problem can develop if your bite does not align properly, as an awkward or uneven movement can cause pressure on your joints to mount. Issues with TMJ-related aches and pains can also be linked to a physical injury, to trouble with teeth grinding, or to a problem with your dental health that forces a change in the way you bite and chew. Through TMJ therapy, our practice can ease your discomfort. This therapy often involves the use of an oral appliance that gently corrects your jaw's position.
Am I In Need Of TMJ Therapy?
If you are no longer able to bite and chew without discomfort, if you have stiffness in your jaw, or if you often grind your teeth when you are sleeping, you may need to see your dentist to discuss TMJ therapy. These issues often accompany TMJ disorder, which can make it difficult for you to perform any jaw movements without some pain and sensitivity problems.
How An Oral Appliance Helps You Recover From Alignment And Bite Troubles
With a custom oral appliance, we can take care of your jaw alignment so that you are not struggling with discomfort and stiff movement when you speak, laugh, and eat. The appliance is worn at night, and remains in position while you sleep. Its presence will guide your jaw into better alignment, which can reduce the stress on your joints and muscles. Oral appliance therapy can also help if you are experiencing problems with nightly teeth grinding.
In some cases, it may be difficult to fully address bite issues that make you vulnerable to TMJ disorder without restorative dental work. If you have teeth that are not able to absorb bite pressure, the placement of dental crowns can lead to needed changes. You should be able to put pressure on these restorations without issue, which means you can move forward with your TMJ therapy and be free of discomfort!
Discuss Treatment To Restore Teeth Affected By Nightly Grinding
If you have been grinding your teeth at night, the wear and tear on your teeth may have you concerned. If so, we can discuss cosmetic dentistry to make positive changes to the way you look. Through dental bonding and contouring work, we can make positive changes to your smile that can hide wear and tear, make your smile more uniform, and generally raise your confidence!
Discuss Treatment For Chronic Jaw Pain At Sunny Smiles In El Paso, TX!
If you are growing concerned about issues with jaw pain and stiffness, TMJ therapy may be called for. To learn how Sunny Smiles can help you with this, contact our El Paso, TX, dentist's office on N. Zaragoza Road at 915-849-9000.